Category Archives:
Video production newbury
Would you like to know how to add photographs to your LinkedIn Profile?
Adding Photographs and Video to your LinkedIn profile.
Do you use LinkedIn?  Did you know that you can add photographs and also video to your LinkedIn profile?
If you're not harnessing the power of uploading your images to LinkedIn you're missing a huge marketing opportunity.
The really great news is that adding photographs and video to your LinkedIn profile is really easy to do.  Just follow the instructions below
which tell you how to do it!
Uploading videos and images to LinkedIn
You can add images and videos very easily to your LinkedIn profile page.
This means that you can illustrate your greatest achievements in the form of stunning images, videos and presentations.  You can add videos and images to the Experience, Summary and Education sections, but not yet to Skills and Expertise or Additional Information Sections.
How to do it!
Click 'Profile'  from the menu at the top, then choose 'Edit Profile' . Under each of the entries in your Summary, Experience, and Education sections, is a new icon, a box with a cross. You can see this on the screenshot that I have taken from our own LinkedIn profile.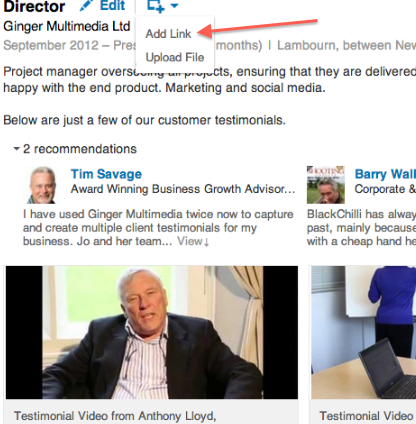 If you choose to add a link, type or paste the link to your content into the "Add a link" field. If you upload a file, select the file from your desktop. A picture of your content will display with the pre-filled title and description fields.
To edit the title and description, move your cursor over Profile at the top of your homepage and select Edit Profile. Scroll to the media sample you'd like to edit and click the pencil icon in the lower-right corner. Click inside the Title and Description fields to edit the text, then click Save.
You can also move media samples from one section to another. Do this by clicking the drop-down menu under "Move this media to" and choose the section of your profile you'd like to move it to. Then click Save. To rearrange items within the same section of your profile, click and drag them to the spot you want.
If you want to remove an image, presentation, document or video from your profile, scroll to the sample and click the pencil icon in its lower-right corner. Click "Remove this Media," then click "Yes, remove it."
So, don't lag behind DO IT, put aside 15 minutes to implement this – you'd be mad to miss this FREE marketing exposure you can give yourself.
You can also do the same for Video.  Think how powerful the moving image would be – Testimonials from people recommending you.  Here at Ginger we are also produce and market Video.  Take a look at our sister site www.gingermultimedia.com to find out about our Video Production.
If you'd like to talk about any aspect of Photography or Video Production please just contact one of the team.  We're more than happy to discuss any potential production, no obligation, no hard sell, no hassle!   Just call us on 01488 71314 or email neil@gingermultimedia.com
Photography Company Newbury.
For Ginger, a photography and Video Production Company, Newbury it has been an explosive start to the year!  We really are going from strength to strength.
With well over 30 productions already in the can!
From company showcase videos to testimonial videos and talking heads the pace has been fast and furious.
We have also been shooting a lot of corporate portraits, so although it has been a very damp start to the year weather wise, the team and Ginger have been Red Hot!
If you are still considering if you should be using video then the video below may help your thought process…
Corporate video and photography company near Newbury and Reading going Strong!
So what an amazing November this is going to be. We have a lot of work already booked in and we will be visiting North Yorkshire, Nottingham, and Birmingham along with a lot of local work also.
Why are we so busy, simple really we produce quality work for reasonable rates. Our focus is always to achieve the clients objectives and then to surpass them!
Be it corporate video or stills photography the objective is always to produce work that reaches out to our clients target markets and delivers a compelling message.
Our testimonial videos are very popular at the moment and we put that down to our research and preparation before hand that ensures that every testimonial we shoot is a powerful one!
Below is a testimonial from one of our own clients. I hope your November is also a good one
Interested in video? Then please visit our sister website  Ginger Multimedia.com